Origin: Leicestershire, England.
We Paid: £1.99 per 100g, 2.62e per 100g
Brief description: A very underrated, crumbly and rich cheese that Nigel Farage would be proud of.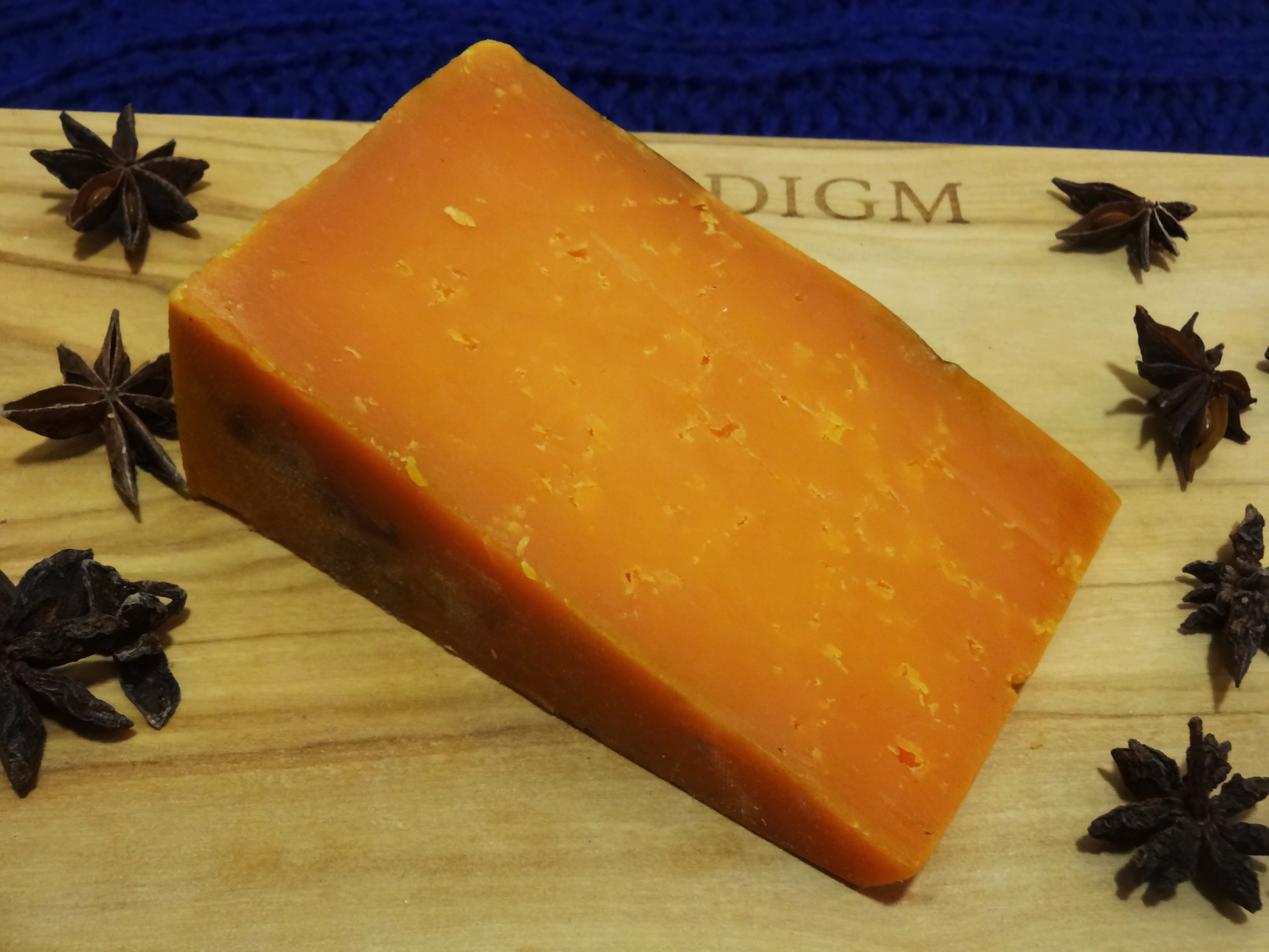 Never, never and never again shall it be that this beautiful cheese experience the oppression of the everyday Tesco value branding. We are here to liberate its reputation with a passion that could rival even the spirit of Donald Trump's freedom cheerleaders. RED LEICE-STER, RED LEICE-STER, RED LEICE-STER
Smell: Ellen: It smells like a farm. It has a complex smell that is earthy and rich and tingles all me tastebuds. You'd be pretty safe keeping this one in your fridge and when you have guests over there won't be any questions asked.
Appearance: A warm, burnt orange colour with a hint of age manifesting in cracks on the surface that reveal its deliciously crumbly texture. We have always been quite disparaging of this cheese as our ever growing snobbery and its plasticy presentation nestled amongst the basics cheddar have traditionally led us to cast this cheese aside. It is far too often offered only as a colourful, cheap alternative to the English classic. We got ours from the most ridiculously English sounding cheesemonger you can find: Pooky & Grumps! Served with excellent advice this little deli has a small but well selected range. It also gave us the chance to venture further afield to the lovely little town of Horsforth.
Consistency: This cheese has a very satisfying texture with all the right amounts of crumbly and butteriness. It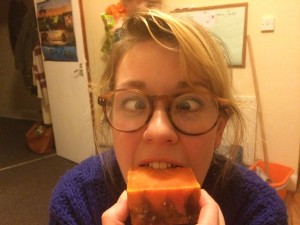 has similar characteristics to classic, home-made English fudge, (if you're ever in Brighton, definitely check out Roly's Fudge shop). It's a medium hard cheese that works well sliced so… Every boy and every girl, SLICE UP YOUR LIFE, people of the world, SLICE UP YOUR LIFE.
Taste: Today we present you with a little morsel of cheesepertise from Culture Cheese Magazine (http://culturecheesemag.com/cheese-iq/discerning-your-dairy). Does everybody have their cheese ready?
To allow the tongue to pick up all the components, take a small, thin slice and let it luxuriate on your tongue, stimulating your saliva and taste receptors.
We consumed about half the block in tiny slices letting it luxuriate, but we're not sure how much of an effect this actually had on our tasting process, so let us know if you have any other nuggets of advice.
This lovely Red Leicester is nice and rich, not quite Bill Gates but probably banks more than Hugh Heffner. It is tangy and full-bodied without being overly strong. The attack is fiercely flavoursome which slowly evolves leaving you with that classic after-taste that an addict would struggle to resist. Just as the smell suggested, it has an earthy, wholesome, dairy taste.
Strength: A solid 6.5. The flavour has a lot of presence, but it's not overpowering in the traditional sense of cheese.
Score: 7.5! All in agreement, this is definitely a 7.5.
Final Comments: Don't underestimate the Leicestmeister, but avoid the supermarkets for this one.